Linear Health Sciences Poised to Make an Impact on the Infusion Disposables Market
Fresh off the press – Linear Health Sciences is named as a 'Start-Up to Watch' from the premier trade press organization, Medtech Strategist. This signifies a tremendous uptick in interest in not only what the team is working on now, but where it's anticipated to go in the future.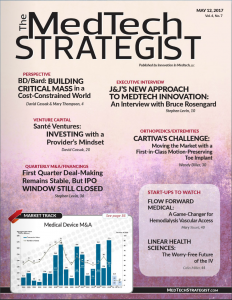 The Linear  Team has been working hard to reach the final stages of its flagship products' development, the Orchid Safety Release Valve, with the goal of commercial launch following FDA approval in September, 2017. The Orchid Safety Release Valve (SRV) is designed to mitigate unwanted or accidental IV dislodgement due to tension-based events.
To read the full article click the link below
Medtech Strategist – Start-Up to Watch – Linear Health Sciences