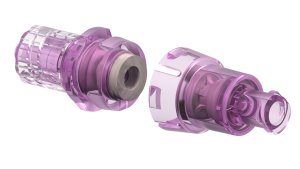 OKLAHOMA CITY, Oklahoma – Linear Health Sciences, developer of the Orchid™ Safety Release Valve (SRV), announced that it has received a substantial grant to work with the Global Center for Medical Innovation. GCMI is a comprehensive medical-device innovation center that guides the development and commercialization of new medical devices.
Linear Health Sciences is the first company to qualify for the new GCMI Medtech Accelerator program.
"Linear Health Sciences was hand-selected into our Medtech Accelerator program based on feedback from the clinical community and existing validation from key stakeholders and investors," said Tiffany Wilson, CEO of GCMI. "Our evaluation confirmed the great potential for the Orchid SRV and Linear's platform technology, which is designed to meet a critically important unmet clinical need.
"We expect the company to advance steadily toward a successful product launch," Wilson said. "It takes a village to get from concept to commercialization, and GCMI was founded to help provide the kind of support that will move the company to the next level."
Linear Health Sciences is developing safety release valve technology for a variety of medical tubing. The company's first product, the Orchid SRV, is designed to safely prevent the unwanted dislodgement of IVs. The device could provide advantages for patients, nurses, vascular access specialists, and hospitals.
"Our acceptance into the Medtech Accelerator program is tremendously validating for the progress we have made to date," said Ryan Dennis, MD, the CEO and co-founder of Linear Health Sciences. "It demonstrates the excitement among clinicians and the investment community about the Orchid SRV and our approach to solving a widely recognized problem in nursing and vascular access care.
"GCMI will guide us through our final refinements of our product, protocols, and testing procedures." Dr. Dennis added. "It will provide us with additional marketing research and customer feedback to aid our commercialization efforts, and it will support the process as we move toward FDA clearance for the Orchid device."
Potential advantages of Linear Health's Orchid Safety Release Valve include:
For patients:
* Fewer IV restarts including painful needlesticks
* Reduced potential for more invasive treatment such as central lines due to loss of peripheral IV integrity
For nurses:
* Greater efficiency through avoiding dislodgements and unscheduled IV restarts
* Less exposure to sharps injuries and potentially infected blood
For hospitals:
* Reduced potential for infiltrations, phlebitis and healthcare-acquired infections
* Cost savings due to more efficient use of nursing time and less need to replace entire IV setups because of accidental dislodgements
* Greater patient satisfaction
About GCMI
The Global Center for Medical Innovation (GCMI) is the world's leader in driving efficient medical product innovation. It brings together core members of the medical device community, including universities, research centers, clinicians, established device companies, investors, and startups, with the goal of accelerating the commercialization of innovative medical technology. GCMI, and its wholly owned subsidiary T3 Labs, is a non-profit 501(c)(3) and affiliate of the Georgia Institute of Technology, a member of the University System of Georgia. For more information, call 404-385-5191 or access http://devices.net.
About Linear Health Sciences
Founded by a physician and two engineers, Linear Health Sciences is the developer of the Orchid Safety Release Valve and other safety technology solutions for medical tubing. Those solutions are designed to improve the healthcare experience for patients, caregivers, and healthcare institutions. The estimated market for the company's technology is $1 billion annually. Linear Health is currently pursuing FDA clearance for the Orchid Safety Release Valve. For more information, access www.linearsciences.com.